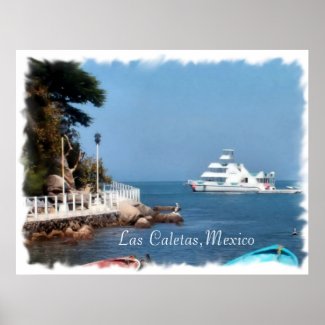 mexican escape posters
by
mrsrnj
See other
poster prints
online at zazzle.com
 
 
Puerto Vallarta. A popular Mexican seaside resort located on the Pacific Ocean's Bahia de Banderas (Bay of Flags). With a population of 255, 725, Puerto Vallarta is the sixth largest city in the state of Jalisco, Mexico as of 2010.
Puerto Vallarta is derived from a former governor of Jalisco, Ignacio Vallarta and is once known as 'La ciudad más amigable del mundo'  which means, The Friendliest City in the World.
Because 'Puerto Vallarta' can be quite mouthful, instead of pronouncing Puerto Vallarta in its entirety, in Spanish, the city is usually reduced to 'Vallarta' mean while, English speakers often abbreviate the city to, 'P.V.'.
Things To Do/Places To See
When someone mentions 'Puerto Vallarta', the first few words that come to mind are, 'sand, sun and surf' Puerto Vallarta is a perfect vacationing spot for anyone who seeks tranquility.
With activities such as fishing, golfing, horseback riding, hiking and whale watching available, it is not possible for your trip to be a waste. Puerto Vallarta has mountains, jungles, beaches, rivers and waterfalls. Rest assured, it is entirely different from any other destination in Mexico. It is modern with a touch of traditional Mexican roots.
1. Puerto Vallarta is widely known for their gay beach destination centered in the Zona Romántica (near Blue Chairs resort). As mentioned, it is popular amongst gays and lesbians, although ofcourse, everyone else is welcome too! There, you can also find hotels and resorts as well as bars and nightclubs. It will surely be a good experience like no other. After having a wonderful time at the gay beach at Zona Romántica, you can stop by their nearest restaurants or do some shopping.
2. With boundless natural beauty, it is definitely unforgivable to miss exploring Puerto Vallarta's wildlife and culture. Make it easier for yourself, call up Vallarta Adventures. They are Mexico's leading adventure company and will unquestionably plan the best out of your day with activities such as snorkelling, whale watching and more!
3. Visit the Cathedral of Our Lady of Guadalupe (La Iglesia de Nuestra Senora de Guadalupe) when you can. It is the hub of religious life in Puerto Vallarta. It is recognised for their 12-day festival every December. It was built in 1929 and the interior is creatively decorated with detailed artistry.
.It is said that an earthquake damaged the ornate crown that enhanced the beauty of the church. Even after the repair, it still creates controversy. The original crown is said to be a replica of the crown of the mistress of the Emperor Maximilian. It is definitely a worthy place to visit.
4. Electro Beach Puerto Vallarta is a yearly music festival in Puerto Vallarta. It is highly recommended that you attend this festival as it provides a totally different kind of experience as the other music festivals. Electro Beach Puerto Vallarta is located at a beautiful beach in Mexico filled with substantial amount of booze. It features talents such as Tiesto, Avicii, Calvin Harris, Steve Aoki and more. If you're an electronic dance music fan, this is definitely for you!
5. If you've got a day to spare, why not head down to Malecon Puerto Vallarta for a sweet, relaxed walk with your loved one(s). Take the opportunity to soak in local arts and scenery with live Cuban, Jazz, Rock, Latin music! The breeze will leave you cool on the hottest of days and with restaurants nearby with happy hours everyday, there is nothing more you can ask for.
It is undeniable that you'll have a lot of fun when you travel to Puerto Vallarta, however do take note that its important to dress light, largely due to the unforgiving sun screaming onto the city. It is mostly humid but rainy seasons are from June to Mid October and the dry season of November to May is where you should be packing in your Sunscreens. If you're vacationing for water activities, it is best to travel to Puerto Vallarta, where water temperatures are warm all year round, ranging from 24°C in January – March to highs of 36°C in July – September.
Save on your trip to mexico with Mexico Promo Codes.